Adobe Dimension and Adobe Substance 3D Stager
We noticed you have some frequent questions about Dimension and Stager.
Here are the most frequent asks.
What's the difference between Stager and Dimension?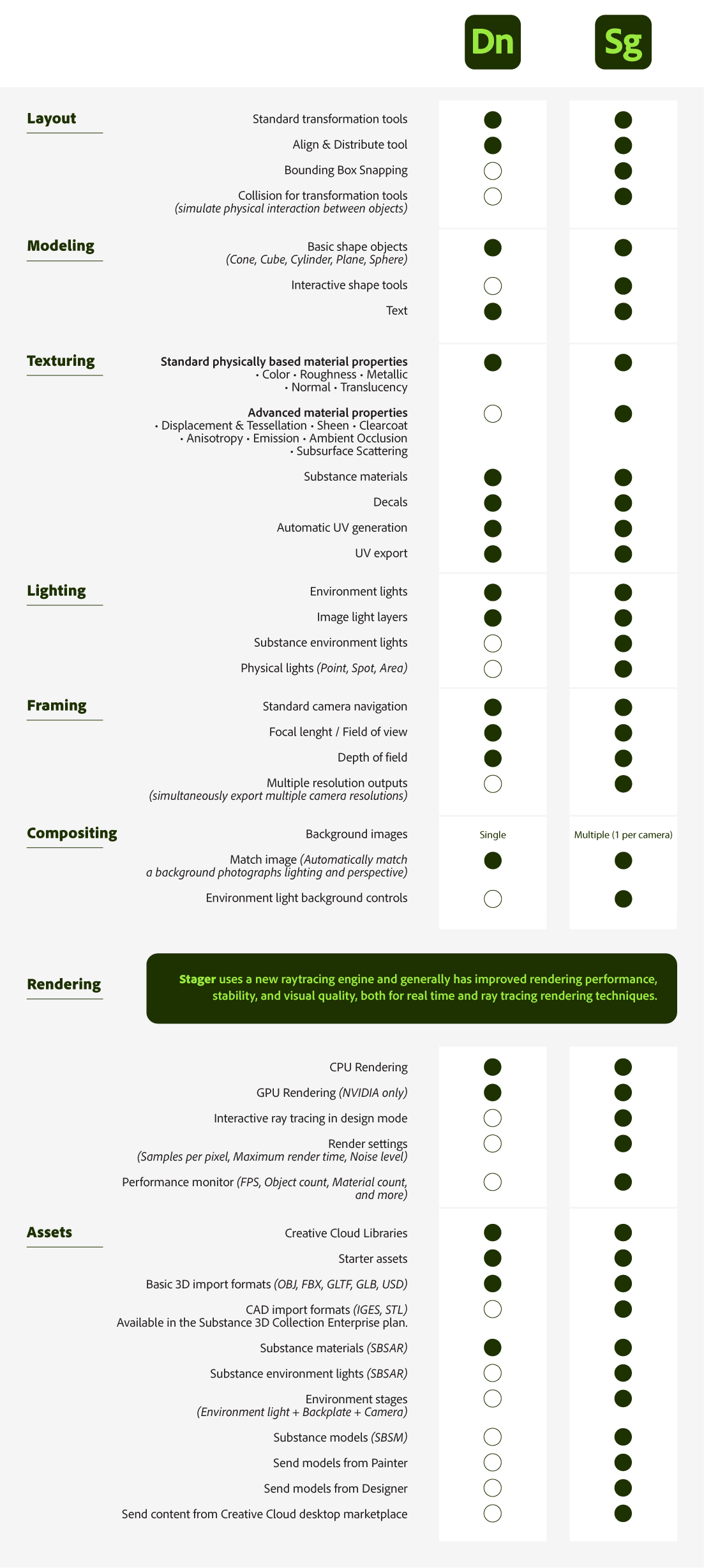 Why are Dimension and Stager separate apps?
Dimension was launched as an initiative in 2015. A lot has changed since then, with a bigger investment into Adobe's 3D & AR category of products. The new Substance 3D collection of applications and services are being built cohesively to provide an end-to-end 3D pipeline.
The same team of experts created both Dimension and Stager, but the underlying technologies have changed a lot and will continue to diverge as Stager and new 3D applications work to build a seamless ecosystem for 3D content production.
To ensure anyone currently using Dimension would not have their work disrupted or require significant changes, Dimension continues to be available as is.
Why are the Substance 3D apps not included in Creative Cloud All Apps?
The Substance 3D Collection includes 5 new desktop apps, services, and 3D content.  To prevent a significant increase to the Creative Cloud All Apps pricing, these applications are available as a separate subscription. This also allows more 3D-centric users to subscribe to the Substance 3D plan independently from the Creative Cloud All Apps plans.
Will Dimension be updated?
Dimension provides a simple workflow for visualizing designs in 3D. Dimension is part of Creative Cloud All Apps and is a supported product. It will continue to receive technical and security updates, like the recently released M1 support.
At this time we have no new workflow features planned for Dimension. The team is primarily focused on developing new workflows and functions in Substance Stager.
Can I transfer work from Dimension to Stager?
Yes!  Stager can open Dimension files.  Because of technology changes in the rendering engine and material model, scenes may look slightly different when transferring, but should remain largely the same.  Differences can be minor changes in roughness, metallic, translucency and other rendered appearances.
Are the Substance 3D apps available for educational use?
The Substance 3D applications are available for free with the Creative Cloud All Apps Higher Education plan, not for K-12 yet. Licenses automatically distributed for all Share Device and Feature Restriced Licenses, as well as for recent Named User Licenses — older Named User Licenses can be handled ad-hoc, please reach out.
Substance 3D applications are not available with Creative Cloud All Apps for Students and Teachers plans, but Substance 3D Painter, Designer and Sampler applications are still available for free for students and teachers on Sustance3d.com.